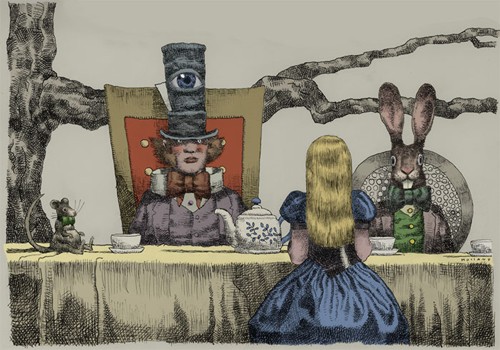 Brad Holland
USA
Brad Holland is a self-taught artist and writer whose work has appeared in Vanity Fair, The New Yorker, Time, Playboy, Wall Street Journal, Fortune, Rolling Stone, New York Times and many other national and international publications. His drawings and paintings have been exhibited in museums around the world, including one-man exhibitions at the Musée des Beaux-Arts, Clermont-Ferrand, France and the Museum of American Illustration, New York City. His satire of the art business "Express Yourself, It's Later Than You Think," first published in The Atlantic Monthly, has been widely republished, both in print and on the Internet. In 2005, he was inducted into the Society of Illustrators Hall of Fame.
Early in his career, the Washington Post Profiled Brad Holland on the front page of their Style Section, calling him "the undisputed star of American illustration." In 1999 the editors of the artists' directory RSVP voted him "the one artist, who in our opinion, has had the single greatest impact on the illustration field during the last twenty-five years." In a 2009 profile in Graphis Design, artist Christoph Niemann commented: "After inventing a whole new approach to illustration in the 70s, he has been reinventing himself constantly and is one of the very, very few people in the history of illustration to have stayed fresh, inspiring and eminent for an entire career." And author Steven Heller has written in Print Magazine: "As Pollock redefined plastic art, Holland has radically changed the perception of illustration."
Brad Holland lives in New York City and continues to work on assignments and commissions from clients around the world.